wordpress website development services
Beautiful WordPress websites
Regular maintenance & updates
WordPress websites -developed by industry professionals
All of our WordPress websites are dynamic and feature-rich. They always focus on customer engagement and brand differentiation. 
WordPress is the platform we use to build websites. We choose it because of its speed, security, flexibility, and accessibility.
Customizing WordPress is easy. Your website design will be both awesome to look at and functional at the same time. It will be compatible with all devices. 
It will set you apart from the competition. This results in more sales and repeat customers.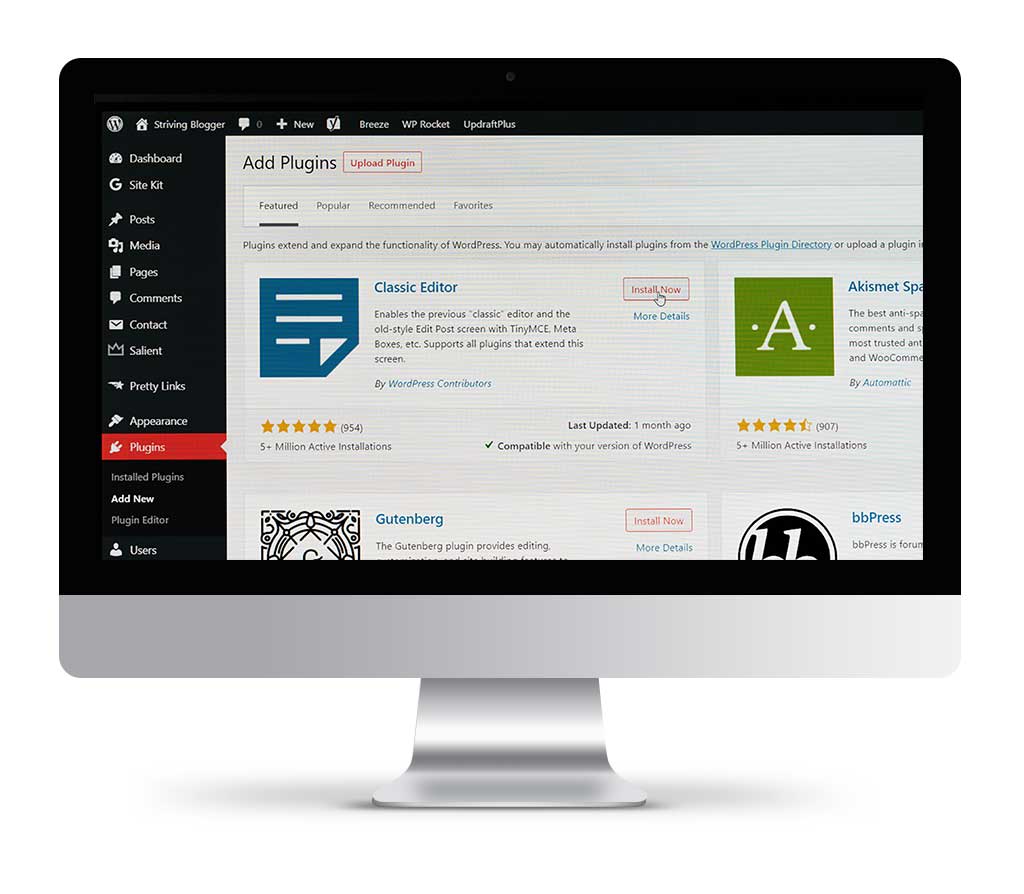 WordPress website development services from Paragon Marketing
Paragon's web development team have over ten years of experience developing WordPress websites.
Many content management systems (CMS) can be very slow and generally feel outdated.
With WordPress, it's simple to create landing pages, add content and assets as required. We will build you your WordPress site from start to finish. This starts with planning and development to launching the site.
WordPress plugins software applications that is it on top of the WordPress software. This allows you to create almost any kind of website with WordPress.
WordPress plugins enable you to
Start an online shop using the WooCommerce plugin

Add security protection to your website

Create vouchers and tickets

Generate hotel bookings and restaurant bookings
Once your site is live we can add content, make required changes, and sort any bugs or teething troubles. We also support your site with regular maintenance and updating.
Frequently Asked Questions
What is WordPress?
WordPress is the simplest, most popular way to create your own website or blog. Approximately 43.0% of all websites on the web are powered by WordPress. Almost one in four websites that you visit is likely to be powered by WordPress.
The WordPress software is open-source and licensed under GPLv2, so anyone can use or modify it. With a content management system, you can manage important aspects of your website – like content – without needing to know anything about programming.
What sort of websites can WordPress make?
There is almost no limit to the type of website that can be built in WordPress
This includes:
Blogs
Business websites
Portfolio websites
eCommerce stores
Online communities
Multilingual websites
Wiki websites
Magazine websites
Affiliate websites
Is WordPress secure?
WordPress is secure as long as publishers follow best practices and take website security seriously. You should always use safe plugins and themes, keep responsible login procedures, monitor your site with security plugins, and update regularly.
Once my website is built can I easily manage it myself?
Yes, with a little training, which we will provide, you can easily manage and update your website yourself.
How much will it cost for a WordPress website to be developed?
Each website is different and we wouldn't want to give you a price until we know exactly what you require. Please get in touch and we will discuss what you do and don't need and will get you a bespoke quote as soon as is possible.

"I would always recommend Paragon for your online marketing needs."
"Fantastic service. Really quick responses and excellent work done on our new website! Thanks guys!"
Sam Ross
Yorkshire Hog Roast
"Love the website, logo and SEO results. Highly recommended "
"Paragon Marketing are behind everything we do, they provide great value and top quality. "
Stella Millhouse
Spirit of the Rock